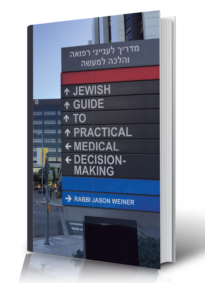 Jewish Guide to Practical Medical Decision-Making
, is a book of original material on Jewish medical ethics, which presents the most up to date contemporary medical information and rabbinic rulings in an accessible, user-friendly manner.  Rabbi Weiner addresses a broad range of medical circumstances such as surrogacy and egg donation, assisted suicide, and end of life decision making. Based on his extensive training and familiarity inside a major hospital, the goal of this work is to provide clear and concise practical guidance to facilitate complex decision-making for the most common medical dilemmas that arise in contemporary healthcare.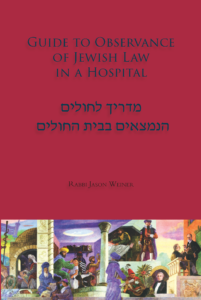 This booklet,
Guide to Observance of Jewish Law in a Hospital
, is designed to assist people observing traditional Jewish Law while undergoing medical treatment, especially in the complex and unfamiliar environment of a hospital. The strength of this work is its brevity, as it provides easy access to answers on numerous questions that can arise in a hospital—including proper observance of Shabbat, kashrut, festivals, and numerous other ritual observances. This collection is an indispensable resource for hospital chaplains (of any faith), and an essential guide for a rabbi involved in pastoral and communal affairs. Most of all, it is written with the layperson in mind, to quickly provide answers to many of the common questions of observance that arise for patients in a hospital.
---
Books Rabbi Weiner Contributed to
Rabbi Weiner has a chapter in this book
Rabbi Weiner has a chapter in this book
Rabbi Weiner's English Translation